We care about undergraduate students' learning!
Curious Aggies is a student-led research initiative that encourages students to share their experiences as learners in order to include students' voices in conversations about how their learning is assessed. We believe that student-led research is important because it ensures that data about students is analyzed by students. Student-led research makes it possible for undergraduates to contribute to create change that will benefit our learning.
Here are some of the valuable tips that we have compiled as a result of our inquiry!
During the 2020 Curious Aggies inquiry, the research revolved around three central questions:
How do students find out what faculty expect them to learn? 

What do students do when they don't know what faculty expect them to learn?

How does knowing or not knowing faculty expectations for learning influence students?
Why these questions?
These essential questions stemmed from research that shows that students need to know their intended learning outcomes (in short, what professors expect them to learn)  in order to fully understand and succeed in a course.



More clarity in what students are expected to learn → more confidence in their class performance. So, what ways do professors make their expectations transparent? 

Continue reading to find out more!

How did we collect our data?

Survey 
Interviews
Over the course of 14 days in February & March 2020, about 600 students began our survey and after data cleaning, we had 464 analyzable survey responses. The last item in the survey recruited respondents to participate in interviews. 95 students agreed to participate in interviews. In over 10 days in March 2020, a total of 30 students participated in 17 interviews.

Our quantitative survey consisted of three main questions:

1. How many courses are you enrolled in this quarter?

2. How did you find out what you are expected to learn in your courses this quarter?

3. In general, when you do not know what you are expected to learn in a course, how do you find out?
We conducted small-group interviews to invite participants to tell us things that a survey could not capture. The interview format gave us the opportunity to collect diverse answers that touch on topics related to student learning and assessment that had not been asked on the survey.

Here are some of our questions:

1. How confident are you that you know what you are expected to learn by the time you graduate from your major?

2. How confident are you that know what you are expected to be able to do by the time that you graduate from your major?

3. In the courses that you are taking right now, how confident are you that you know what instructors expect you to learn by the end of the quarter?

4. In your own words please tell me how you find out what you're expected to learn in a course.

5. What do you do when you aren't clear about a course's learning goals?

6. How does knowing or not knowing the learning objectives of a course influence you?
---
What are SLOs?
Here is an example of what SLOs should sound like!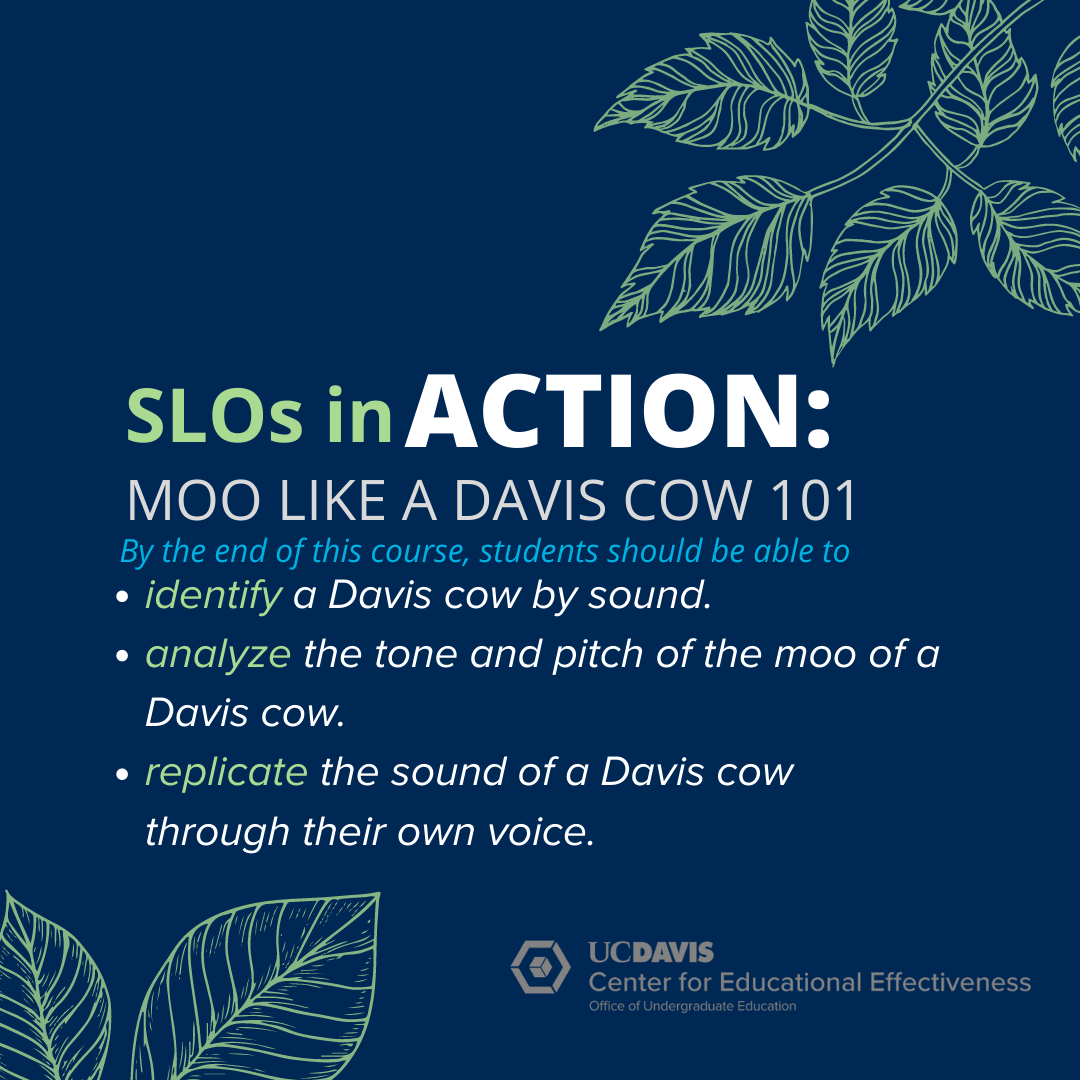 Student Learning Outcomes (or SLOs) are statements which clearly say what students should know and be able to do as a result of and at the end of the course. A student learning outcome is not a calendar that lists out the assignments on a syllabus or a brief outline of the topics to be learned. Student Learning Outcomes are usually standards or statements that start with "By the end of this course, students will be able to . . ." that help the student check in with themselves and truly ask if they understand what they are supposed to be learning. Because these processes of introspection that the student may do are so critical to their learning, it is extremely important that these outcomes are clear, easy to find, and emphasized. 
In our study, we found that many of our survey respondents and interviewees reported that they did not know what the student learning outcomes for their courses were. The heart of our study and further inquiry explores this finding; we hope that our results  will motivate students to ask professors to provide clearer learning outcomes for courses. In one of our in-person interviews, a student explained:
"I do better on assignments when I know what the purpose of them are. And it helps me learn better when I know what I'm supposed to be learning."
---
Importance of SLOs
Timing
Our research revealed that the most frequent ways that  students find their student learning outcomes, or what faculty expect them to be learning for a course, are through their instructors and TAs; the course syllabus; the homework assignments for the course; and through assessments like exams. What is particularly interesting from our findings is that a significant population of students reported finding out what they're supposed to have learned when taking a test or quiz. Essentially, students are learning what they were supposed to have learned before taking the quiz as they're taking it: 
I can usually figure out what the learning objectives are by taking a test or doing an assignment or something like that. And then I can usually figure it out based on that. 
Students should know what they are expected to learn long before they are asked to demonstrate their learning.
This finding emphasizes the importance of the timing in which students learn what the course learning outcomes are. In our study, we found that on average, 82% of our participants said that they found out what they're expected to learn in most of their classes in the first two weeks of Winter 2020 which is a best practice, but a small group of our participants (3%) said that, in at least one of their Winter 2020 courses, they were still not sure what they're expected to learn in week 9! 
Clarity
Clear and transparent SLOs are key for a student's successful performance in a course. Without clarity of student learning outcomes, students may struggle.
I think just knowing the objectives allows you to not even work harder but work smarter . . . just having those clear objectives does create a lot more motivation.
Simply put, the more clarity a student has about what they're supposed to be learning, the more confident they may feel in situations when they are being assessed.
---
Students: we understand that it is challenging to go through a course and not be clear on what you're supposed to be learning. We encourage you to reach out to your professors and TAs and refer back to your syllabus when you have questions about what the learning outcomes of the course are. Student learning outcomes are a useful tool that can guide your way through a class and allow you to self-assess to get a better understanding of what you're learning. Though we only shared a few results of our study, our data is robust, and opens plenty of other opportunities for inquiry focused on improving student learning at UC Davis. 
Tags